Bookings Open
In 2011
twowheeltours
attended the first ever Haute Route event
Since then we have partnered with the Haute Route to offer the most comprehensive packages to all 3, 5 and 7 day events
Our focus is you and your success in Reaching New Heights
---
The extras twowheeltours
provides for the best possible experience:
Airport Transfers / Accommodation / Massage / Mechanic / Bike Servicing / Half Board / Cars & Bags on Course / Staff at Rest Stops, Starts & Finishes / Ride Nutrition / Non Rider Partner Program
Reach New Heights with twowheeltours
---
We continue to assess the Global COVID-19 Crisis
You Can Book Today to Secure Your Place & Pay Later

We remain positive and we will continue to monitor the situation.
We will keep all our riders who have booked tours with us up to date with regular updates.

This situation is completely new and unknown, so if:
If we have to postpone the 2021 tour, you can either receive a full refund or you can have a credit for 2022.

If you have not registered for the tour, we ask you to book ASAP so that we know how many riders are wanting to join us and so that we can continue to plan.
---
Course below is for 2021
Start & Finish City for the Six Day Tour : Geneva Switzerland
2021 Event Crans Montana Switzerland
Six Day Fully Catered Package:
Wednesday 9 June to Monday 14 June 2021
We can organise packages for any length of days - please email us for more details
Three Day Race:
Friday 11 June to Sunday 13 June 2021
Profile for 2021 is Below:
Costings for Riders and Non Riders : see tab below PACKAGES & PRICE
In 2021 We Will Have Very Limited Number of
Exclusive Places On Our Fully Catered Tour
The first edition of the Haute Route Crans Montana is set to take place in July 2021. Riders will climb 8100m+ through Switzerland's finest alpine landscapes. From the green valley floor, to imposing glaciers and stark alpine landscapes that will take your breath away, every turn in this three day epic will leave you speechless.
twowheeltours will continue its alliance with OCSport and offer a Fully Catered Package for riders competing in the cyclosportif. We cannot wait to offer our clients the best possible service as they ride in the canton of Valais, Switzerland. The event will be based at the ski village of Crans Montana, around 1,500m above sea-level.
The Haute Route has had mountain finishes at Crans-Montana several times when the 7 Day Haute Route Dolomites event was held in 2014 > 2016. Crans-Montana has also hosted a Tour de France finish back in 1984 when Laurent Fignon won the 20th stage.
twowheeltours offers a limited number of riders an unbelievable experience during the Haute Route. If you are going to do any Haute Route - do it in style and comfort. twowheeltours takes pride in making sure all our riders need to do is focus on the event. We have our own masseur, mechanic, bag logistic manager, cars on course and tour manager who rides the course with our riders.
We also offer a NON RIDING partner program - imagine your own multi-lingual tour guide, taking you to cultural and architectural highlights of the region then meeting up with the riders after each stage at the best local restaurants.
twowheeltours the ONLY tour operator who has been to each and every seven day Haute Route since 2011.
Are you up to the challenge?
Highlights for the riders
Opportunity to ride five days
20 > 125k days on offer
All rides with a guide and support vehicle + photographer
During the event there will be twowheeltours support vehicles on course
Our own mechanic and masseur on staff
All bag logistics - inlcuding on course ride bags
Amazing food
Included on tour
Pick up from Genevea Airport (GVA), Geneva Main Train Station or Geneva Hotels
Five nights and Six days on tour
All breakfasts, lunches and dinners
Laundry
Accommodation in top level hotels
Support vehicle includes tools, pumps, cooler with drinks plus fruit and snacks
Crans Montana Details 2021
Details About Our Six Day Tour:
Our twowheeltours riders should arrive into the Geneva on the Wednesday, the day before the Haute Route registraion in Crans Montana. We will spend the Wedenday night not too far from Geneva which will allow us to build the bikes and do two rides to 'warm-up' before we drive the two hours over to Crans-Montana on Thursday morning.
Once in Crans-Montana we will stay in top-level accommodation. The mountain village is a beautiful place where the Haute Route will be based for the three day race.
On Sunday, post race, we will drive back towards Geneva and have a celebratory dinner at our hotel. On the Monday we will transfer our riders back to Geneva Airport or Geneva Hotels where our tour will end.
Highlights will include:
Pre-event rides to make sure all is working with the bikes and to warm up
Top level accommodation
All land based transfers from Geneva to Geneva
Pro-level support including twowheeltours cars on course, and our own dedicated mechanic and masseur
Tour manager who will be riding the course with our clients
All meals included
Details for the 2021 three day event
Taking place from Friday 11 June to Sunday 13 June 2021, the inaugural Haute Route Crans Montana promises three days of fantastic riding on a challenging and mountain-esque roads in the canton of Valais, Switzerland.
Totaling 236km with 8,280M+ of climbing, the course will feature demanding ascents up climbs including Crans Montana (1,800m).
The final day time trial will be up to Crans Montana and will be a memorable end to the weekend.
Conditions in June in Crans Montana average 3 - 13°C
Haute Route Crans Montana
Details for 2021
Event Village : Thursday 10 June 2021 : Crans Montana
Stage 1 : Friday 11 June 2021
Crans Montana > Crans Montana
96km | 3,500m+ (+47km transition)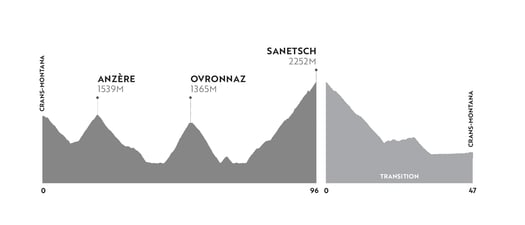 Heading out of Crans-Montana, Stage One begins with a descent – giving riders little time to test out the legs before reaching the first climb of the day and the seven-kilometre ascent up to Anzère. Eager to tackle the first climb and knowing there is a 24-kilometre descent afterwards to recover, riders may push up and over this climb a little hastily, but should remember that the following two climbs certainly pack a punch.
The climb to the spa village of Ovronnaz has been featured in the Tour de Suisse but be warned, the professionals make it look much easier than it is. With an average gradient of 9.9%, the roads follow the Salentse river through pine forests and pastures. Enjoy the view over Rhône Valley and Grand Muveran before reaching the feed station at the top. Riders should take time to re-fuel here before pushing on to tackle the last col of the day and one of the finest Switzerland has to offer.
At they pass through Conthey, riders will quickly realise they have started the climb to Col du Sanetsch and that this climb means business, with the first kilometre ramping up to an average gradient of 10.9%. The road winds through beautiful terraced vineyards towards the village of Erde. Here riders can look forward to catching their breath over five kilometres before the road rises up again to an average between 7-10%.
A series of steep switchbacks leads out of the forest and into vast open pastures above the tree line. A short stretch of gravel (approximately 200m) and a dramatic tunnel leads to beautiful glacial views will take your breath away as you continue on upwards to the summit finish at 2,252m. Bringing together the quaint terraced villages, ancient forests and stark alpine landscapes, Sanetsch is one of the Switzerland's greatest climbs.
After crossing the finish line at the summit, the timing will stop, and riders can catch their breath and take in the beautiful views. From here, riders will then point for home and enjoy the 47km transition towards Sierre. Here you will then board a cable car back to the event village. Enjoy this moment, as your next trip from Sierre to Crans-Montana will be much harder, making up part of the Stage 3 time trial.
Stage 2 : Saturday 12 June 2021
Crans Montana > Crans Montana
112km | 3,350m+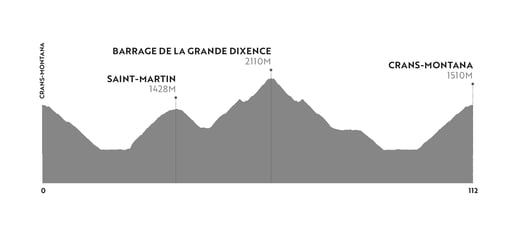 As the peloton head out of Crans-Montana, they can enjoy ticking off some faster miles before reaching Bramois and turning off left to make their way up the Côte de Saint Martin. This steady climb giving riders the chance to test out the climbing legs after yesterday's effort, whilst taking in the panoramic views, traditional villages and vineyards that surround them.
After heading downhill towards Euseigne, riders will then prepare to climb to Barrage de la Grande Dixence - the biggest dam in Europe and the tallest gravity dam in the world, with some steep hairpins to match. This 13.7km climb has an average gradient of 7.7% but be warned, some of the hardest kilometres are saved until last and upon reaching Pralong, prepare for the road to ramp up - with double figures featuring right up to the dam wall.
At 2,110m+, the road stops at the bottom of the dam, with the huge wall towering in front of you. Make sure you factor in some time after the event to visit the lake (and the 700m zip-line) but for now, it is time to finish off this incredible stage as you follow the road back down the way you came.
Enjoy the descent and a flatter section before taking on the 15km climb from Lens to Crans-Montana, with the added motivation that once you have completed this 1,000m elevation gain, you can look forward to a well-deserved massage and post-stage meal after an incredible day on the bike.
Stage 3 : Sunday 13 June 2021
Crans Montana
15km | 1250m+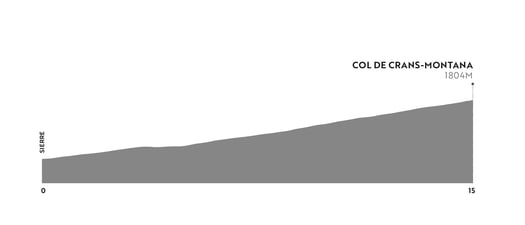 Leaving Sierre, riders should prepare to get sweaty as they leave the sunniest city in Switzerland and take on the 15-kilometre time trial up to Col de Crans-Montana. Enjoying the beautiful Chateau Mercier leaving the city, riders head towards a road off the beaten track, surrounded by vineyards.
This climb offers little respite, so make sure you pace your effort whilst hunting down the riders in front and racing against the clock. You will reach the hardest kilometre (10.4% average gradient) before Aminona but after this you can look forward to leaving the forest and taking in the panoramic views of the peaks of the Valais.
This is a fitting backdrop and a breathtaking end to your Swiss cycling experience, as you grind over the final few kilometres before crossing the line as a finisher of Haute Route Crans-Montana.
Here is the outline for the twowheeltours fully catered six day tour:
Day One
Arrive Geneva
Wednesday 9 June 2021
2:00pm Tour Officially Begins
Transfers on offer throughout Wednesday from Geneva Airport (GVA), Geneva Main Train Station and Geneva Hotels
Check-in at our accomodation in the Divonne-les-Bains (France) area
Build bikes
Afternoon Loop ride from our hotel
Ride distance ~30 > 40 km & Total Ascent 400M+
Dinner and Accommodation in Divonne-les-Bains
Day Two
Thursday 10 June 2021
Morning ride in the Divonne-les-Bains area
Ride distance ~50 > 70 KM & Total Ascent 1,000M+
Lunch
Transfer from Divonne-les-Bains to Crans Montana : drive ~2:00 / 180km
Haute Route Rider Registration
Dinner and Accommodation in Crans Montana
Day Three
Friday 11 June 2021
Crans Montana
Stage 1
Dinner and Accommodation in Crans Montana
Day Four
Saturday 12 June 2021
Crans Montana
Stage 2
Dinner and Accommodation in Crans Montana
Day Five
Sunday 13 June 2021
Crans Montana
Stage 3
Relax, shower after the event
Transfer from Crans Montana to Divonne-les-Bains : drive ~2:00 / 180km
Dinner and Accommodation in Divonne-les-Bains area
Day Six
Monday 14 June 2021
Departure Day
Relaxed morning in Divonne-les-Bains area
Transfer from Divonne-les-Bains area to Geneva
For the full itinerary - please email us info@twowheeltours.com.au
Packages & Price - Crans Montana
Three nights in Crans Montana at Top Level Accommodation - close to race hotel
Two nights in Divonne-les-Bains France, one before we head to Crans Montana and one on the Sunday night after the ITT
Luggage logistics
All breakfasts, lunches and dinners
Masseur on the twowheeltours staff
Mechanic on the twowheeltours staff
Staff on course at rest stops
Laundry
Single Occupancy
More details listed in the Haute Route FAQ Tab
Please contact for shared accommodation
6 Days €3,179 includes Haute Route Race Entry
6 Days €2,450 excludes Haute Route Race Entry
5 Days €3,050 includes Haute Route Race Entry
5 Days €2,300 excludes Haute Route Race Entry
50% to confirm your place
Final payment due 1 March
Non-rider package, 6 Days €1,950
Would you like a shorter or longer package? We can also arrange that, we can be as flexible as you need. Contact info@twowheeltours.com.au for more information.
Crans Montana Accommodation
Pre & Post Event
Riders will be staying in France in the village of Divonne-les-Bains. Just 20 mins from Geneva Airport (GVA) it is the perfect location to spend our first and last night on tour. We will be staying at the very comfortable 4 star Domaine de Divonne - Hôtel, Golf & Casino.
Pre Event, our riders will have two warm-up rides before heading to Crans Montana. On the Sunday, post the ITT and celebratory lunch, we will head back to Divonne-les-Bains, a 2 hour drive.
This village of Divonne-les-Bains is just a stones throw from the Switzerland boarder and close to the beautiful Réserve naturelle nationale de la Haute Chaîne du Jura.
Event Hotel
Our riders will stay in beautiful Crans Montana, a large ski resort in the glorious Swiss Mountains. twowheeltours has stayed in Crans Montana several times when the Haute Route once passed through this mountain top village.

The Hotel Arenas Valaisia offers our riders early breakfasts, indoor swimming pool, lots of green space and great restaurant. This is a fantastic place to base ourselves for the three nights we will spend in Crans Montana.
Haute Route Crans Montana FAQ
What will twowheeltours offer besides race entry and support?
All land based transfers from Geneva Airport (GVA), Geneva Main Train Station or Geneva Hotels throughout the six day tour.
Join twowheeltours during the three day event and spend a night either side of the event so that you are well prepared for Haute Route Crans Montana. Come join us for our 6 day tour in combination with the three day event. We can also offer shorter tours if you would like, click the amount of days you prefer on the booking page.
What staffing does twowheeltours provide?
We have been fortunate enough to be at all HR 7 day events since 2011, that is all of them. Now twowheeltours will attend the HR Crans Montana as well. We take pride in making sure all our riders need to do is focus on the event. We have our own masseur, mechanic, bag logistic manager and tour manager who rides the course with our riders.
What will the event look like?
This three day race will include different formats which are still to be confirmed at this stage. Riders can expect to see : classic stages, marathon stages and an individual time trial - ITT. The first two stages should see riders complete two 100+km days and then participate in the ITT on Stage 3.
Guide Book for Haute Route Crans Montana 2021
To be released soon
Here is an example from the Haute Route Oman 2019 guide book - LINK.
We cannot confirm exactly when the guide books will become available but they are distributed before the event.
Grimpeur Magazine
The Haute Route quarterly digital magazine is the go-to reference for all things Haute Route. Featuring exclusive interviews, rider profiles, event previews, unique articles, guest columns and much much more. A great resource for all Haute Route riders.
February - Spring 2019 Summer 2019
GPX Files
We will also receive the GPX files before the event. We (twowheeltours) turn them into 'ride with GPS' files and then email them to our riders so you can see the elevation gains etc.
EG from 2018:
110.7km with 3,010m
What will your Haute Route Race day will look like?
Wake up between 0530 and 0600 - depending on the stage start time
Breakfast between 0530 and 0700 - depending on the stage start time. All breakfasts are included
Drop your mussette(s) at reception, you will see those bags again on course/at the stage finish. In those bags you can put nutrition, extra clothing and/or leave clothing at the rest stops. For you finish bag you can pack comfortable shoes, t-shirt or wind vest and any other clothes
Stage start between 0700 and 0800
You will see on of our vehicles during each stage for assistance. Where they are located depends on each stage, taking into consideration, weather and the distance of the stage. At the end of each stage you will find a twowheeltours staff member to welcome you. You can get a cold drink, offer you something to eat, pass along your mussette and give you directions to lunch and the location of the hotel
Stage finish between 1130 and 1700
A hot lunch is served by the race organisers
Massages and hot showers are available near the finish line. If you want a massage from the race organisers, you will need to register when you arrive. A time slot will be given to everyone, to avoid waiting. twowheeltours will have their own massage therapist on tour
Briefing for riders at 1830 in the race village - a twowheeltours representative will be at the briefing to collect information to share with you at dinner
Dinner with twowheeltours usually from 1830
Extras you will receive
Haute Route clothing
Hundreds of Marshals along the route and at intersections
Motorcycle escorts, many of whom have assisted at the TdF in years past (1 escort for every 15/17 riders)
Presence of security vehicles to escort the peloton (including a sag wagon/bus)
Medical team who are also on the road during the event and at each finish village
Mechanical support during the race and at the villages
Timing and tracking system, see how fast you got to the top of all the cols
For your bike and for identification you will receive a personalised frame plate and two official numbers to wear daily
Rest stops at the tops of cols and also along the route with food, drinks and energy products
Daily rankings (Solo, Team, and by age group and sex)
Hot lunch at the end of each stage
Each night there is a safety briefing followed by an aperitif but we will have our own briefing at the hotel
Closing party held at the finishing city
A medal for each finisher
A finishing shirt
A personalised certificate to download
Other benefits which are available but not necessarily needed as you are on thetwowheeltours package:
Secure bike park at each finish village
Hot showers at each finish village
Access to a bike wash area at each finish village
Videos produced daily and published to youtube which are shown during safety briefings
You will also receive a Haute Route 'race day' back pack
Official Guide - maps - route details:
All riders receive via e-mail, the Haute Route Official Guide - below is an example from 2015 of what the document looks like:
What other support over and above that provided by the Haute Route organisation does twowheeltours offer?
We are a Fully Catered tour, we provide you with all land based transfers from the closest airport / train station / your hotel in the host city to our top level pre-event accommodation in Divonne-les-Bains and then to Crans Montana for the race. Then airport/train/hotel transfers on the final day of the tour. We provide all breakfasts and dinners, drinks including alcohol, bag logistics, staff on course and also at the finish line of each stage, staff member riding the course taking photos*, laundry, non-rider partner program with their own guide and daily activities, cooler and baskets stocked with extra food and beverages post race and personalised attention.
You will also see twowheeltours staff on course during each stage. Each morning riders will drop their mussettes / feed station bags at our hotel's reception which will be taken to the designated mountain passes / feed zones. Riders receive a back pack from the Race Organisers plus a musette from twowheeltours to be used for these bags. In these bags riders can put clothes / food / bottles etc. Each stage varies but you will usually see two twowheeltours staff members on each stage.
The additional 'Race Bag' service from the race organisers. The rough details are - As a reminder the race bag service allows you to access extra kit your own food and any other spares at a pre-determined feed station mid-race - particularly helpful on bad weather days! Riders who purchase this service in advance will be able to pick up their customised race bag on Registration Day.
Travelling with twowheeltours means that you do NOT need this. We will have cars on course and you will have your backpack from the race organisers and also the twowheeltours musette to use on-course. Each night we will go over where our vehicles will be on course. In the morning we will have areas where you can leave you backpack or musette to be collected by you on course.
*Bring an 8G thumb drive and receive the photos for nothing at the end of the trip.
Haute Route Video
Have you watched the HR Video on what to pack / bring? Now you will have some questions, not all points relate to you as your are on our tour:
Haute Route Bag - You can take the HR bag IF YOU WANT, we give you twowheeltours luggage tags which you put on your bags, preferably two which we move everyday, one large bag and one backpack. You drop your bags to reception each morning and our team move them to the next hotel. We recommend that you take the HR (small) back pack, you can use that on course. Also, we give you another little bag which you can use for another rest stop during the stage. At reception each morning we have signs to designate where our staff will be on course and you put the bags where you want to see them. At the end of the day, our staff bring them back to the hotel.
Our staff on Course - The location of our staff on course varies each day, due to weather, distance and other logistical factors.
Bike Bag - The race organisers take your bag from Registration to Stage 7 - ie Geneva to Venice or whichever are your start and finish villages. You can put any gear in the bike bag which you do not want to see for eight days. Many of our clients will place their HR Travel Bag (90 litres) in their bike box for a momento. There is no access to your bike bag once it is dropped off on the registration afternoon through to after Stage 7. twowheeltours will be leaving your bike box during HR in Divonne-les-Bains.
Rules - if you DNF one stage you can still start the next stage. You may not receive a shirt at the end but you will receive a medal.
Teams in 2021
This will replace the Duo competition within each Haute Route event.
Some riders may remember the HR used to have a team competition a few years ago and by popular demand it will make a return in 2021. The beauty of the team classification is that each rider will still get an individual time as well as an overall time for the team worked out on the fastest 4 members to finish each day.
So a group of friends/ colleagues/ members of a club can both race and have fun as a team while still knowing how they measure up against the rest of the opposition.
Team from 4 to 6 riders - Team Men only (3 fastest times counting) - Team Women only (3 fastest times counting) - Team Mixed (3 fastest times counting – 1 at least must be a female or a male).
Riders competing in Team category will also be ranked individually in Solo Man or Woman.
twowheeltours can assist in supporting your team to help reach your goals with on course support, bottles on the fly etc.
How hard is the Haute Route?
The race organisers and now offering a Compact Event for riders who are not wanting to have a Full Haute Route Experience, these routes are usually 25 > 40% less KM's than the full ride.
Luckily enough, I was intereviewd at the finish line of the Haute Route Dolomites 2016 event, here's what was reported:
Forty-something-year-old Sydneysider Will Levy was celebrating a unique achievement, having become the only rider to complete every Haute Route event since the first one in the Alps in 2011. "I feel good…probably better than I did after the first one in 2011, that was extremely hard because you didn't know what was going to happen with riding for 7 days in a row. It has been an amazing experience to go through from the beginning until now and on into the future. Things certainly become easier once you have one Haute Route under your belt."
What is Will's advice to someone thinking of taking on an Haute Route event? "The fitter you are, the more fun you'll have. These are not just Saturday or Sunday rides – you need to come prepared and the better prepared you are the more fun you will have," he said.
Is it a ride or a race?
The top 50, or so, riders go hard. They do not mess around, do quick rest stops, many times miss the timed rest stops and not much chatting in the bunch. Not to say that the riders from 51 to the back of the bunch do not ride hard but there is definitely a different mentality. There is nothing worse than going hard on Stage 1 and cooking yourself for the remainder of the stages.
Timed sections
This varies each day, there is no set rule. The Haute Route try to get as much of the day's ride as a timed section. Some days there may be a 10km neutral 'roll-out' from the start while other days there may be 1km, each day is different. The weather also plays a major part, if it is wet/raining etc they may cancel the timed descents for safety reasons.
When there are non-timed descents, riders will go as fast as they can up the hill and cross the timing mat. More than likely, there will be a feed-station at the top of that climb, where the timing will stop. These feed stations are very relaxed and people 'hang-out' to refuel, rehydrate etc.
Then riders usually take the descent 'easy' and many times you will find a large group waiting before the timing mat, which is generally located at the bottom of the hill/mountain. This situation happens more-so if there is a valley or long flat section. Then someone usually takes change and decides when to roll out when the group looks 'strong enough'.
If there is a non-timed descent going straight into another timed climb, people will just roll across the timing mat as they please.
I think I need a training program?
Each rider is different. A training program certainly helps, especially when talking to a coach who has a wealth of experience and who has completed many cyclo-sportives.
We like to encourage riders that the fitter they are, the more fun they will have.
We have a range of coaches who we highly recommend. For further details on training programs, costs etc - CLICK HERE.
Riders may also be interested in reading a paper by Geoff Nash who has written an in-depth paper on a riders power from the Haute Route Dolomites - CLICK HERE for the paper.
I would like to spend more days in Geneva
twowheeltours is more than happy to assist with this request. Please email us on info@twowheeltours.com.au so that we can organise exactly what you would like. We are more than able to assist you if you would like to come in two nights before the tour or spend extra nights in Geneva. We can be as flexible as you need.
You're an Australian tour company, do you have riders on your tours who are not from Australia?
We have clients on our tours from all over the world, Russia, Australia, NZ, UK, USA, Canada, Japan, South Africa, Brazil, France, the Netherlands, Italy, Czech Republic and Spain. Each year many of our riders return to do the Haute Route with twowheeltours, which is a great honour.
Rooming
All prices listed are single supplement. For dual occupancy, other than your wife, please email us on info@twowheeltours.com.au
Hotels
Hotels are listed soon after the Haute Route releases the race routes. We strive to get the best possible accommodation during the race.
Wifi - Internet Access
Our hotels all have internet. We have never had problems getting on line with multiple devices for the one person - so using your mobile, laptop etc is okay.
What about transporting my bike to the event?
Packing your bike with care and in a specific case. This is the safest way to get your bike to the start of the event in one piece. Youtube clip on how to box your bike.
How do I pack my bike?
Drop into your favourite Local Bike Store (LBS) and ask them to assist you. You could ask them to do it first then build it up, then you have a go - all for a price. Or you can become a profession via youtube - LINK. We will be there to help you build your bike.
Which bike box should I use?
How long is a piece of string, there are SO many out on the market it is amazing, each year there seems to be something new and improved. We have used the EVOC Bike Travel Bag for the last 4 years - they have now updated to the PRO. We have used the EVOC Travel Bag countless of times for our MTB and road tours. It has NEVER had any issues, NEVER had my bike damaged and we really like it. I also have two 'bits' to make life a bit easier - CHAIN COVER & ROAD BIKE ADAPTOR. It may take a little longer to use this bike but once you have done with travel the bag compacts down. When boxing the bike, we would highly recommend removing the derailleur from the derailleur-tip but that takes a few extra seconds - youtube clip - this is a clip is by 'Computer' a Sydney mechanic, excuse his hair and finger nails, he really is a good guy! Other options are : Polaris do some very good models - LINK or Scicon Bags - LINK or there is the Helium one which gets great reviews - LINK OR go to your LBS and get a cardboard box.
Where can I build my bike?
We will have a designated area at the start and finish of the tour which can be used to build your bike. We will be there to assist with the building of your bike.
Help will be there if necessary
To assist you in building your bike there will be the required tools plus bike stand, track pumps, torque wrench, grease, chain lube, rags, plastic gloves and hand wipes.
Have you ever had troubles transporting your bike on airlines?
In many years of traveling with a bike, there has never been any issues with boxing and flying with our bikes. Note, some airlines do charge for excess baggage while others do not. We do not know the policy on each carrier but we know that United, American Airlines and Lufthansa charge for bike boxes whereas Virgin Atlantic does not so long as it is under 23kg / 50 lbs & 62" / 158cm total linear cm and Qatar / Qantas allow you to bring your bike as long as it is within your 30kg limit. Please make sure you weigh your bike before you get to the airport and it is also highly recommended that you check prices and the fine print for excess luggage (ie bike bags / sporting equipment) with whoever you are flying with. Please do this before you get to the airport.
What time does the race start each day?
Riders start each days stage from the Haute Route Village at various times depending on the length of the day's stage. The earliest has been 7:00am. On the time trial day start times differ depending on your over-all accumulated standing. That day the starts go from last to first.
What time does the race finish each day?
Again depending on the length of the day and how fast you ride. From the previous Haute Route stages finishes have concluded anywhere from 1pm through to 5pm.
Is there a minimum speed average?
Each day the race organisers set a cut off time and minimum average speed depending on the length of the stage.
What is there to do at the end of the days rides?
Relax, put your feet in a fountain, shower, eat, talk to other riders, take a nap, rehydrate, grab a massage then eat and drink some more. There is generally a reasonable amount of time to relax before dinner.
Tools and other equipment
twowheeltours will have a full tool kit for your use on the tour as per listed above including track pumps.
What should I bring?
It is highly recommended that riders bring tubes, mini tool, levers etc which you would normally take on a long ride - recommended pack list.
During the HR riders will need to be somewhat self sufficient. There is always a company associated with the event who are there to assist where needed but will not change tubes for you. It is also recommend that riders bring specific spokes and derailleur tip/hanger - you will be reminded of this during the booking phase. There will be cables, chains and tires, if it gets to that point, available at stage finishes.
Mandatory Haute Route Packing List
The Haute Route wants to ensure that each rider comes to the event fully prepared for colder temperatures, and not only rainy weather. In the past, some riders have shown up expecting summery temperatures and clement weather, only to almost freeze at the top of some of the cols or on some of the descents! That is why they require the five mandatory items:
Hardshell helmet
Long sleeve thermal jacket
Full finger winter gloves
Thermal overshoes
Leg warmers/leggings
The jacket needs to be 'waterproof' and 'windproof'. The one which we have been using in the past Pearl Izumi Elite Barrier Jacket. We also pack a lighter spray jacket plus a gillet/vest to come away with.
Other choices are:
Attaquer All Day Rain
Gore Stretch
Castelli Perfetto
What role do the Roving Event Mechanics Play?
There will be around 5 staff, in a fleet of 3-4 cars, which follow the peloton throughout every stage. During the event, technicians in cars - or at fixed service points - will ensure rapid repairs in the case of any mechanical problems.
Bike servicing and washing
All riders, pre Haute Route, should have their bikes FULLY serviced including, bottom bracket wear/tear, rims checked, new tires, inner tubes, brakes and cables. At each village there are facilities to wash your bike and yes you will be able to use our tools for any of your needs. There is NO charge for our mechanical work.
Bike washing
Bikes do not need to be washed each day.
Gearing
It is recommended to have a compact crank. In previous years there have been just a few riders who had standard cranks. About what to run in the rear, ask yourself this question, do you spend much of your time riding in the granny around home? If so you'll be in it a lot during the Haute Route. Also think about climbing a mountain which is 15+ kms, that can be around 2 hours of going up. Most of our clients have a compact at the front and 11-32 cassette.
Travel Insurance
You MUST organise your own travel insurance. You MUST make sure all aspects, medical, flights etc. are covered.
For Australians, twowheeltours can recommend velosure - they are aware of our insurance needs. Each policy will differ due to a variety of circumstances, ie age and dates travelled etc. They are happy to assist in giving an obligation free quote. Please head to their website for more information.
COVID & HR Insurance : Four Points
1. Get extra cover with the Haute Route optional Insurance Policy
The HR insurance covers accidents, injuries, or even changing your mind (for all events except for Mexico and Brazil).
The cost for the HR Insurance Policy is 15% of the value of your package (for example, your entry fee as your accommodation and other details are covered by twowheeltours) and it must be purchased at the time of registration. Riders who you have an entry code from twowheeltours, can purchase this during their booking on the HR website.
The HR Insurance Policy does not require you to give a specific reason for cancelling your registration, but like most insurance companies, Circle Policy excludes COVID-19 from their coverage. Riders will deal direct with the HR to claim their Insurance.
If any rider is unable to attend an event due to COVID-19, we will offer them the chance to transfer their registration to another event in 2021 or 2022 as detailed below.
Please note that HR Insurance Policy option is only available for European events and Oman.
Learn more about insurance : https://faq.hauteroute.org/knowledge/cancellation-insurance
2. You don't need insurance to cancel
If any rider cannot or does not want to come to an event, they can cancel their HR registration at any time.
Once riders have booked with twowheeltours, you are to let us know that you will not longer be able to attend and we will deal direct the the HR.
Entry fees and extra services will be refunded, minus a percentage which varies depending on the length of time before the event.
You can find the details of these rates in the sales conditions.
The full sales conditions : https://www.hauteroute.org/policies/view/general-sales-conditions
3. Transfer your registration
Things are changing fast at the moment, so we are keeping things flexible. If COVID-19 is still impacting our events in 2021, we will give affected riders the opportunity to transfer their registration to another event in 2021 or 2022 for an administration fee of €50.
Once riders have booked with twowheeltours, you are to let us know that you will not longer be able to attend and we will deal direct the the HR.
Each case will be reviewed individually so we can work with riders on the best solution for their particular situation.
4. If HR have to cancel an event, riders will have options.
As Haute Route events have smaller participation numbers than many other sporting events, we are exempt from many current restrictions. This gives us confidence looking forward to next year's events.
However, if we are forced to cancel one of our events, all registered riders will be given the opportunity to transfer their entry to another event in 2021 or 2022.
Do I need a Cycling Licence?
There is no cycling licence needed. A medical certificate signed by your Dr stating that you are fit for cycling is required. You will receive this once you have completed the HR registration. Once you have it signed by your Dr, you will be required to upload it to the HR website. twowheeltours can assist with this if necessary. Please make sure that you BRING the original document to the start of the tour. If you are from the EU a Cycling Licence is necessary.
Diet - Food on Trip
Travelling away from home is always an adventure. As we offer Fully Catered tours we supply you with breakfast and dinner. The race organisers supply you daily with lunch during the tour. The food will be excellent, we will experience top level meals.
If you have eating requirements/needs please let us know when you book in the comments section and we will endeavour to meet your needs.
Sports Nutrition
Everyone has their favourites nutrition companies. Please bring along what you are happy with and what you trust.
Want more information about Specific Sports Nutrition for the Haute Route - Chloe McLeod is a Sports Dietitian who we used to help guide our clients to smarter eating for such events - more information click here.
Bringing my own nutrition, any issues with quarantine?
In regards to bringing your own powders and large tubs of powders, we have had clients bring their own from home and they have never had an issue. Most put powder into a zip lock bag, leaving the big tub at home. We would not recommend for you to bring copious amounts of gels/powders etc as there may be an issue. If forms require please declare what you have in your bag. Lastly, please pack it in your checked luggage.
Food at rest stops
At the top of each col there are 'full stations' and these have: Fresh fruit - oranges and bananas; Dried fruit - figs, apricots, sultanas; Cereal bar; Cake - savoury; Cake - sweet; Coke or cordial; Water; Energy powder; Energy bars; Energy gels - more info below.
There are also 'light stations' - these are located half way up some col's or after a long flat section. These stations have: Dried fruit - figs, apricots, sultanas; Cereal bar; Water; Energy powder.
Medical assistance during the Haute Route
Riders' safety is the N°1 priority of the organisers of the Haute Route. Each year they entrust medical support to a team of professionals who are experienced with large endurance participation events (cyclosportives, running, trail running, adventure raids...).
The medical service on the Haute Route will be provided by a team of doctors, nurses, emergency technicians, and ambulances in sufficient numbers depending on the current rules and the specifications of the event. For medical reasons, a participant can temporarily or permanently be withdrawn from the race. A medical emergency number will be put in place so that each participant can easily, in case of a medical problem, let the Race Organisation know.
How safe is the Haute Route?
The route is not closed to vehicles, but it is secured and riders will benefit from a right of way during the timed sections of the race. Several hundred marshals will be present on the road to ensure the peloton's safety, but ultimately YOU are responsible for your own safety whilst on your bike. It is an amazing experience seeing all the 'lollipop' men and women at the hunderds of intersections! In addition to the race management cars (head, middle and back of the peloton), motorbikes specialised in cycling races will surround the Haute Route participants.
In some regions, the Haute Route will benefit from the support of the local and State police to secure the strategic crossings. An "end of race" vehicles will close the race. All riders must respect the traffic laws:
To cycle on the right hand side of the road, at ALL times
To respect the road signs put in place by the organisation
To respect the traffic lights if they are not secured by motorbike or by a marshal
To respect other road users who are not involved in the race
To wear your helmet at all times
To display your bib on your back and your frame plate on the front of the handlebars at all times.
Most stages start with a secured and non-timed convoy of all the participants, at a regulated speed, until the real start line (when timing starts). Each rider will have to scrupulously respect the instructions given by the race management team. When the real finish line of the stage (when timing stops) is located before the arrival in a host city, riders will have to continue to abide by the traffic laws for the remaining kilometers, especially as they won't be benefiting from any right of way.
Bike Bags
Will be transported by twowheeltours to and from the airport/train station or your hotel. During this event, your bike box will be left in Divonne-les-Bains. We will transport your bike 'as-is' on our purpose made bike trailer. The boxing of your bikes will happen either on the Sunday night or the Monday morning.
How fast is each stage, what level of cyclist do I need to be to complete the Haute Route?
The fitter you are the more fun you will have. The race orgnisers have a cut off time for each stage. That can vary depending on the distance of the day and the difficulty of the day's stage. We have had many clients on our Haute Route tours over the years. Some have finished in the top 5 and others have finished in the bottom 5. The secret to finishing the tour is being able to complete back to back difficult rides. Also not to stop for 30 mins at the rest stops.
If you continue to cycle for the entire stage and take note of the cut off times, posted at the tops of hills and also on one of the motorbikes, you will have a very good chance of completing the stage in the allotted time.
Clothing and washing
It is recommended that riders bring at least 3 sets of cycling clothing. twowheeltours gives you a wash/laundry bag [WB] at the start of the tour. We will wash your kits during the tour. We will not put the WB in the dryer. On wash days there is a collection bag left near reception. Riders get their WB back before dinner.
Other info on what to bring can be found here. Unfortunately we cannot wash all your day to day clothes.
Is there gear that I HAVE to wear?
You can cycle in whatever gear you would like.
Clothing
For the official dinners and functions - there is no dress code. Even at our welcome dinner and farewell dinner there is no specific dress code, jeans, t-shirt and sneakers are more than suitable. There is only so much you can pack.
I've booked my ticket via twowheeltours, what next?
You main focus once you have booked with us is training and booking your flights. You will be required to completed some twowheeltours paper work.
You will also be required to complete the online-entry from OC Sport.
Paper work
We require you to sign a waiver from twowheeltours. You will also be required to complete a medical form from OC Sport - this form will need to be completed by a Certified Doctor and stamped by them. This is MANDATORY, if you do not have this you will NOT be able to race.
Hotels - are the hotels used by twowheeltours different to those used by the Haute Route organisation?
As the route changes yearly this is difficult to answer. We at twowheeltours offer you the best accommodation that is available to us, some hotels are very large while others are small.
Location of Hotels
How close is the accommodation to the start/finish? We aim to put you in the best accommodation that is as close to the start/finish line as possible.
Non-riding partners
For non-riding partners - what activities are planned? This varies year to year. We take pride in offering those partners who do not ride the opportunity to have an enjoyable time, not just sit in the van and watch/wait for the riders. When your partner signs up we like to find out what he/she enjoys to do, whether that be hiking, visiting villages, cooking classes and/or markets and provide them with a variety of activities during the tour. Non-riding partners will catch up in the evenings with the riders. We all dine together and you will spend the night together.
Payment
Upon booking a deposit is required, all details of payments will be outlined on your invoice.
How do I make the remaining payments?
Via direct deposit, all details of payments will be outlined on your invoice.
Payment can be made by Square Up - Amex, MasterCard or Visa - there is a 2.3% transaction fee.
What wheels should I bring?
Over the years we have ridden the Haute Route with the aluminium wheels, fitted with clincher tires. We would HIGHLY recommend that you leave tubular tires at home.
Advice for first time Multi-Day Events
twowheeltours has been lucky enough to have been involved with events such as the Haute Route (since 2011) and the Ride Across Portugal (since 2017) - both of their inception years. Since then, we have had hundreds of riders from +20 countries join us on cyclo-sportive tours.
Some of the most important factors to remember:
Events like the Haute Route and Ride Across Portugal have been around for years and if this is your first multi-day, welcome to the family.
The stages are not ALL about climbs, remember, what goes up must come down and then there are all those rolling hills plus flat sections where teamwork is an advantage!
Make sure you have done some bunch riding.
Also, make sure you have done some riding in the rain. Nobody likes getting wet but there is always the chance that a stage may be a damp one.
At the end of each tour, we ask our clients for advice for those who are attempting a multi-day cycling event:
Use a Tour Operator, twowheeltours.
Paolo - Italy
If travelling with twowheeltours, you don't need to think of, or stress over, any details. Everything is taken care of.
Steve - Wales
Train, train and train.
Eimear - Ireland
On the bike > breathe ... eat ... drink ... enjoy!
Owen - Australia
Embrace the experience! Rain, punctures, cramp, bone-chilling cold, transfers - they are all part of what makes the Haute Route such a challenge. And talk to your fellow riders - everyone has a story to tell.
Adrian - Australia
Have the utmost confidence in the professionalism of twoweeltours and Will's staff.
Sergio - Italy
Preparation. Most important is consistent training and lots of it. Work on strength and endurance. Focus on getting the body to recover from a long day and be ready for the next.
Grant - Australia
Preparation and attention to detail. Put in the kms of training. This is not something that can be finished without true training preparation in the legs. Also, invest in a really good "butt butter" type product that works for you and figure out how to minimize saddle sore discomfort.
Paul - USA
Buy a Castelli Gabba!! [Prepare for all weather conditions]
Mark - Australia
Train - simulate actual event.
Stan - USA
Train a lot. Prepare for all weather conditions. Eat a lot on the bike. Take in the scenery.
Dave - Australia
Train, train and train to be able to enjoy the HR and not suffer every day.
Mike - Netherlands
Install a climbing cassette before you leave.
Stephen - Australia
Haute Route is a long event - bad days could be followed by good days...so take it easy the first two days and always pay attention to good nutrition.
Stefan - Brazil
Train for a solid three months including a significant amount of hill climbing. You must have a high dgree of fitness otherwise you are wasting your time. Also put on a 32 cassette.
Noel - Australia
Don't allow the physical and psychological challenge of the HR to get in the way of enjoying the wonders associated with riding a bike through some of the most beautiful natural scenery one can find anywhere.
Paul - Switzerland
Arrive fit with experience of 10km climbs.
Geoff - Australia
Train, train and then train more. If your goal is too complete a seven day event, make sure you pace yourself on the first few days and then if you feel good you can increase your effort on the later stages. If your goal is to position as high as possible I now know that you need to push yourself hard from day 1! But no matter what your goal is just try and take it all in and enjoy the moment.
Will - UK
Trust Will's advice and descend within your abilities.
Bruce - Australia
Don't worry about going hard to stay in a group as the twt guys will be there to support the first and last rider.
Richard - Australia
Do the necessary hill training and endurance work. Use hill repeats if no long hills available.
Aidan - Ireland
Train, Prepare mentally, get use to eating a lot of food with heavy training. Learn the in's and out's of your bike, you will pick up early if something isn't right.
Mitch - Australia
Don't pack too much cycling gear, there are wash days.
Graham - Australia
Train well, get a a couple of back to back days in ideally in mountain terrain.
Kieran - Ireland
Talk to as many of the group as you can - all great people with different experiences as riders and otherwise. Don't stress about the weather- you cannot change it.
JR - Australia
Train to do the length of rides that are planned so you can enjoy them.
Mark - Australia
Train hard. Seek advice from others. Understand you will be grinding / spinning up a slope for what main be two or more hours. Hopefully you are confident with that.
David - Australia
Keep riding, let Will tell you stories, use his energy, if everyone else is doing it you can too (in terms of fitness), relax and have fun. For Ride Across Portugal, it's not a race it's a ride, you literally have nothing else to do all day other than ride your bike.
Kristin - USA
Good gearing, avoid deep dish wheels up high in the wind, and do not chase on day one.
Stephen - Australia
It's worth getting fit for the trip rather than hoping you'll ride into it. If you're fitter and therefore don't struggle as much on the climbs you can enjoy the scenery.
Adrian - Australia
It's a 7 day race. Pace the 7 stages, save something for the end of each day and the last couple of days. For a HR 3 day event, it is lot different from HR 7 day. 3 day with add-on tourism package means you can really enjoy it. I guess only advice would be to train right ahead of time. Make sure you are ready for climbing.
Brent - USA
I want to say do it with an organised group like twowheeltours but in hindsight, I appreciate that my first HR was done with friends only, doing all the extra bits myself. It made me really appreciate the luxury of Will & crew and how much easier it made the stages. So my real advice to a first timer is to ask advice, from people that you know that have done it before. Even regarding travel and best routes etc. Understand all the logistically elements before you arrive, so that you can have fun in the race and don't have to sweat the small stuff either side of the stages. It makes the whole event more relaxed and enjoyable
Jocelyn - Australia
Go easy on day one!
Simon - Australia
Find an experienced coach and ask him to make a training plan for Haute Route. If the coach has done a Haute Route or done stage racing that would be better. Spend time on training as much as you can so that you will not regret. You need to do some 6+ hour days as part of your training.
Don't care about other riders who pass you.
Keep your pace - the Haute Route is long.
Never work too hard especially on the first day.
Don't think about the upcoming passes and stages which remain, just concentrate on the climb or descend you are facing.
Kenji - Japan
Pace yourself - don't go full gas on day 1 or at the start of any stage unless you are an experienced stage racer.
David - Australia
Get a good training program that focuses on hill climbing and endurance - do the prep, ride to your ability, pace your efforts to enjoy each day.
Michelle - Australia
Non-Riders
We also offer a NON RIDING partner program - imagine your own multi-lingual tour guide, taking you to cultural and architectural highlights of the region then meeting up with the riders after each stage at the best local restaurants
In conjunction with and supporting the fully catered rider's tours to all our events, twowheeltours offers partners a very special travel experience. Our Non-Riding Partner Program is led by a multilingual guide who will take you on a cultural journey covering the following highlights:
All lunches and morning/afternoon teas
Visits to unique historical landmarks
Walks through national parks
Cooking classes at exceptional restaurants
Casual riding on electric bikes through picturesque villages and landscapes
Wine tasting and vineyard tours
Opportunity to customise the Program to your own interests
11 Days €3,400
10 Days €3,200
6 Day Tours vary depending on the event location - please contact twowheeltours for more information
Please contact twowheeltours for further information and to register your interest for this unique and exciting program